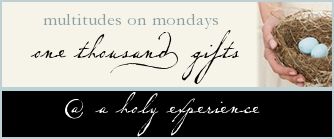 3423 Monday ~~for this day , a new day , a new week !!
3424 The cool morning to porch sit before work and sunrise
3425 A busy day at work
3426 A restful evening = thankful for bed and pillows
Loved this thought for the day ~~~Sit quietly and picture yourself being held tenderly by God.
3427 Tuesday~~for this day !!!
3428 Thankful for my talk with Gaye
3429 Seeing pink balloons on a neighbors mail box = new birth
3430 Wednesday ~~for this day !!
3431 For much needed rain
3432 For that cool feeling after a summer rain
3433 For sitting here eating a wonderful salad Cora made ~~~thank you Cora
3434 Thursday ~~~for this day !!!
3435 The smell of downy on the air as I was walking out = love that fresh smell outside when someones dryer is running
3436 For some days off to go to Ky .......
3437 Thankful for arrival in KY
3438 Loving welcoming hugs
3439 Going out to eat at billy rays
3440 enjoying family talks, laughter
3441 For Brad

telling

me a wonderful touching experience he had witnessed
3442 Friday~~for this day!!
3443 being the first one up to enjoy some time alone
3444 visiting with Lowell and Karen
3345 Lloyd and Penny taking me out for Dinner and the time we shared together
3346 Family laughter
3347 Saturday ~~for this day !!
3348 Leaving early for South Shore to enjoy our family get together
3349 For the pictures Gloria made for me
3350 For safe travels
3351 For another night of family laughs = I am happy
3352 Sunday ~~for this day !!!! Fathers day I am so thankful for the dad that I had he has been in heaven 35 years celebrating with his earthly father and his heavenly father .
3353 Getting ready to leave early
3354 Safe travels home
3355 For my husband on the porch waiting on me when I pulled in
3356 For calls telling others we are home safe Thur all the storms ~~Thank you Lord ~~~
Blessings to all
Glenna