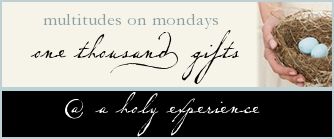 A few quotes I like
Of all the 'attitudes' we can acquire, surely the attitude of gratitude is the most important and by far the most life-changing." —Zig Ziglar
There are only two ways to live your life. One is as though nothing is a miracle. The other is as though everything is a miracle." — Albert Einstein
I AM THANKFUL FOR
3081 Monday ~~For this day as it is GOD given !!
3082 Reading the Upper Room .
3083 Philippians 4:6 Do not be anxious about anything, but in everything, by prayer and petition, with thanksgiving, present your requests to God.
7 And the peace of God, which transcends all understanding, will guard your hearts and your minds in Christ Jesus.(NIV)
3084 Vicky taking us to lunch !!!
3085 Pay Day !!!
3086 Thankful again to pay all utilities bills !!!
3087 Tuesday ~~~For this day !!!
3088 Much needed coffee this morning
3089 Today is Ralph birthday and Buggs first birthday in heaven (my brothers)
3090 That the sun is shinning making it a beautiful day
3091 Thank you LORD ~~~"God gave you a gift of 86,400 seconds today. Have you used one to say 'thank you?'" —William A. Ward
3092 Thank you LORD for my legs ....
3093 People who wrote songs that I love .....(Victory in JESUS ) I could go on and on as I love so many
3094 The prayer bench or that is what I call it in the woods ~~so peaceful ~~~~ for the visit and the peace I felt at this area and for the light that was shining so bright ...........
3095 For the words Believe on a stone !!!
3096 Wednesday ~~~for this day !!!
3097 For this beautiful sunshiny day !!!
3098 Missy bringing me a peach tea
3099 Foe the many blessing of this day that I have failed to list !
3100 Thursday ~~for this day !!!
3101 Having the day off
3102 My husband and I going to O.R together
3103 For GOD's hand on us as a truck almost hit us ..so ..so... close ..I know GOD reached down his hand of safety to us
3104 My brother sending me the bible reading for Jan.-April and I am trying to get caught up to where I should be in reading the bible Thur in a year
3105 A call from Aunt Jean
3106 Our ladies bible study ~~soaking and anointing service ~
3107 Thankful that for the last 7 weeks I have more about David and his prepared heart
3108 Friday~~for this day !!!
3109 To feel and hear the wind
3110 Thankful for Subway when I didn't cook
3111 Talking with family out of state
3112 Saturday ~~for this day !!
3113 To see the grass turning a little green
3114 Seeing a weeping willow with faint green = spring will be here soon =happy me
3115 A good day at work
3116 Studying the bible
3117 Sunday~~For this day !!
3118 Waking to see snow but just on the ground
3119 Coffee to go
3120 LC and my little day trip to jewelry show
3121 A deal on sheets
3122 For our safety today
3123 That I found the book cant wait to get to heaven by Fannie Flagg great deal used $1.99
3124 LC not minding to stop and let me get my husband dinner to bring home along with the many other waits she had with me !
Blessings to all
Glenna