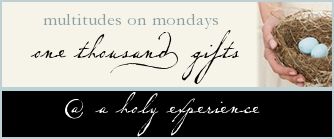 I am Thankful for
1635 Monday~~ For this day !!
1636 I brought my husband a cup of coffee this Am
1637 For us sharing coffee in bed this morning
1638 That My car started in this cold cold weather
1639 God being my pilot
1640 The sun coming Thur my front door
1641 someone coming out in the cold weather to check our heat Called many and only one said they could come .
1642 Not stressing to bad about having to buy a new one
1643 That my husband back is feeling some better than the day before
1644 That GOD see my tears and understands me
1645 For GOD being there in the highs and the lows !!
1646 Getting us Chicken pot pies for dinner tonight and they had chicken in them (don't think I am crazy but the last ones didn't have chicken )
1647 For the our little fireplace so nice to warm up to
1648 Tuesday~~For this Day !!
1649 Staying warm all through the night
1650 Making it safe out to the main road again today
1651 Blessed to order a new Heating/Air unit
1652 Lisa bringing me lunch today ~~thanks LC~~
1653 The sunshine all day today
1654 82 days until spring
1655 Memories
1656 Wednesday ~~For this day
1657 Another night of being warm
1658 Coffee in bed
1659 I prayed last night for a person to witness to today .....yes I got it ....blessed to get the opportunity
1660 We got our new unit in today ~~thankful to have it
1661 blessed to have people that will pray when asked
1662 Thankful for family and our love for each other
1663 Thursday~~for this day !!
1664 For morning coffee in bed
1665 Visiting my brother in the hospital to see he was sleeping as he had been so tired from no sleep
Thank you LORD
1666 Tamsey coming to visit us
1667 Seeing this sweet older couple saying there prayer before they ate (I see this couple in there late 80's I am guessing walking and holding hands in our shopping center ~~What a sweet blessing )
1668 Speaking to the couple about how blessed we are
1669 Chatting with my sister in law on facebook
1670 Reading in the book of Esther
1671 Friday ~~for this day
1672 For the 365 days this year~~the ups and downs ~~ still blessed with each one
1673 For knowing Happiness
1673 For Sadness that makes happiness even better
1674 Having CHRISTmas with family this evening
1675 Having a little get together with my husbands family and their friends
1676 Blessed to have my husbands Mother to visit
1677 Visited with Lisa and her friends enjoyed some good snacks and some laughs
1678 Misty noticed the blue yard I have worn since Bible study in Sept., said I would wear it until someone ask ...numbers 15:39 ~~Praise GOD for Misty asking
1679 Taking some pictures of the sunset tonight ~~beautiful and my blackberry doesn't show the true beauty
1680 Thankful for the 365 Sunrise and Sunsets I have had this year

This is one of the most beautiful places I have loved this spot for years !

1681 My husband and I talking about our years together and how we may spend our Anniversary
in a few days
1682 My sister in law sharing some books I had wanted to read
1683 Staying up for the new years kiss !!
1684 Saturday ~~For this day 1-1-11
1685 A new year
1686 Coffee to sit and enjoy
1687 Blessed to sit and pay our bills ~~Thank you JESUS
1688 Thankful for Prayer Warriors
1689 Sunday ~~for this Day
1690 Sleeping in a little later
1691 Blessed to go to church this morning and be with my church family
1692 Safety going to see my brother and back
1693 My brother feeling some better ~~Praise GOD
1694 Blessed to have many prayer chains going for him
1695 For a sign I saw that said ~~if there were no changes there would be no butterflies ~~
1696 For hearing they had even announced on WMDJ prayer for my brother ~~now that is something you don't hear of much ~~no place like the place you grew up !! How blessed we are that we have so many praying going up
1697 Making my brother Ralph laugh !!
I PRAISE GOD for all the 52 weeks this year as it had held many many blessings