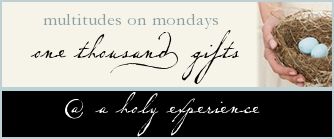 1698 Monday ~~For this day !!
1699 Reading the Upper Room
1700 They are new every morning: great is thy faithfulness ~~Lamentations 3:23
1701 Lifestyle change for healthy eating
1702 Tammie Came Thur surgery good !!Praise GOD
1703 Reading from the Beth Moore daily words .
1704 Starting a Love letter to my husband for our Anniversary on the 7th
1705 Tears for many emotions
1706 Tuesday ~~For this day !
1707 Early am prayers
1708 My husband bringing me coffee in bed
1709 Luke 8:16-18
1710 Stopping to pray to let my light shine to someone today
1711 Reading in Psalms this Am
1712 For enough ~~
1713 Wednesday~~For this Day !!
1714 Psalm 84:11
1715 Working on some pictures
1716 June giving me the old 1929 pictures of Allen
1717 Seeing it snow again ..this snow is a beautiful one
1718 Knowing spring is closer only 73 days
1719 Knowing that GOD is bigger than the storms in our life's
1720 Thankful that I know to trust him when things look bad
1721 Thankful that I can stop what I am doing and get down on my knees and cry out in prayer to
GOD
1722 Thankful for the call from our Pastor
1723 Thursday~~for this day !!
1724 Sissy calling me early to give me updates ,
1725 Taking a few pictures this am as it is Beautiful in the trees
My white Bradford pears
on my way to work the sun is trying to shine
1726 Lisa Brought us a wonderful healthy lunch
1727 Trying to write a blog for the journey of faith
1728 Day four and so far so good
1729 Knowing that GOD is still in control when I hear numbers of low BP and O2 for my brother
1730 Friday ~~For this Day
1731 Thankful for the years of marriage as today is our Anniversary
1732 Having the day off
1733 Thankful that my brother made it Thur the night
1734 Thankful for caring brothers and sisters
1735 Thankful that Ralph and Jimmy called Brother to tell him to go back to the hospital as he signed himself out of ccu last night ama
1736 Thankful for the Text that he is going back to the hospital
1737 I got to go see my brother before they shipped in out to the bigger hosp
1738 Thankful for him telling me the things he did he looked at me and said don't ever stop going to church and praying ....its real ... I have saw heaven and its beauty
1739 That he made it to the other hospital
1740 People that are praying for my brother
1741 The love my husband shows me in the highs and the lows of our life's
1742 That the snow isn't laying on the highway now
1743 For my husband fixing us something to eat
1744 Saturday ~~For this Day !
1745 My husband and I getting up way to early
1746 Making it to work safely ~~Thank you JESUS
1747 My KY family finally making it home from Cincy airport
1748 Thankful Buggs made it Thur the night
1749 I can cry out to GOD and he hears the cry of his child ...
1750 Praise God for some good new from the family
1751 That I made it back from work safe
1752 Sunday ~~For this Day
1753 For the good news we received about my brother doing better PRAISE GOD was moved out of ccu later on this day
1754 For just a lazy day
1755 My husband helping me get the topper but back together
1756 That some of my KY brothers made it to see Buggs
1757 I got to talk to Buggs
1758 For text messages and cell phones
I just PRAISE GOD for his many blessings he has done for me and my family this week
what a awesome mighty GOD is he Angels bow before him , heaven and earth adore him what a Mighty GOD his he !!!
Blessings to all
Glenna