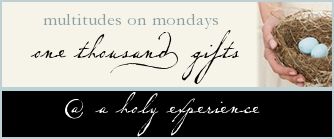 Giving Thanks to GOD this week for .... trying to count the
Endless Blessings from GOD ...............................
6274 Monday ~~For this day !! a fresh day full of blessings
6275 My sister Gaye calling to wish her a happy birthday
6276 Thankful for this study of David I am doing
6277 Tuesday ~~For this day !!!
6278 The beauty I saw as I walked to my car this morning these roses
blooming with ice and frost ..(.see blog of beauty for Pictures)
6279 For shelter, warm home and warm job
6280 My early day to enjoy at home with my husband
6281 Wednesday ~~~For this day !!! That its a beautiful day
6282 For my husband having me a baked sweet potato when I got home from work
6283 Thursday ~~For this day !!! for the nights rest, God allowing me to wake to another day
6284 For laughter early this morning over coffee and firing the butler...
6285 For the beautiful day to walk on my lunch break also for the map my walk app .
6286 For my Lose it app. helping me to log my food and staying on track . Thankful that GOD is helping me each day to eat healthier
6287 Friday ~~For this day !!! all the many blessing of each minute of the day
6288 Saturday ~~For this day !!! That GOD walks with me each day , blesses me
beyond measure ...just for the air I breath ....for the warm 60's day to have the windows and doors open while I clean , Thank you Lord for every step , for every breath
6289 That GOD knows my heart and the he knows the path of work I need ...and what I need
6290 Sunday ~~for this day !! seeing the sunshine come in Thur the doors and windows
6291 That I have a job and that GOD is leading each step I take and that he will open doors
to my needs ........
6292 Another beautiful day !!! that I have huge windows to enjoy the sunshine at work ....
Thank you Lord for the many , many blessings of this week I Praise you for every second
of every day that I have to enjoy as it is a "GIFT" you Lord are the giver of all good and perfect
gifts .....Amen.......