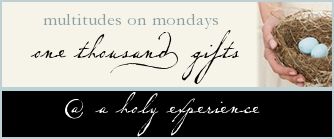 Giving Thanks to GOD this week for .... trying to count the
Endless Blessings from GOD ...............................
6234 Monday ~~For this day !!! a day off work to enjoy as I wish thank you Lord
for your blessings on me for this day as I have shelter from the winds, rain, food
clothes, how blessed I am for this ..
6235 For my devotional time ..
6236 Tuesday ~~For this day !!! That I have had shelter from the wind, rain and cold
praying for those that have been affected by the Storm Sandy.
6237 Thankful knowing GOD knows what do
r to open and what door to shut I just must leave it in
his had ,
6238 Thankful to my sister bringing us fresh baked sweet potatoes, and broccoli cornbread and for Lisa's chicken and veggies.
6239 Wednesday ~~For this day !!! Waking up to know that GOD has keep us safe though the night
seeing the sunshine peeping through the clouds ....For a warmer beautiful sunny day ..how blessed I am
6240 Thursday ~~For this day !!! For my Saviour waking me from the nights rest
6241 Thankful that my husband watches over me as I sleep~~ what love he has for me ~~
6242 Thankful for God giving Doctors the knowledge to know what to do I Pray
I can be a witness to this Doctor if he doesn't know "My GOD"
6243 Thankful that my husband drove me to my doctors app. also for the safety in our
traveling .
6244 For Brunch with my husband again for the love he has for me
6245 For our ladies bible study and for each one of my church sisters ,for each of their prayers for one another
6246 Friday ~~For this day !!! from sun up to sun down I have been blessed
For life, for air, for beauty in all the day !!!
6247 Saturday ~~for this day !! for the beauty of the sun the warmth of the sun on my face
studying more about David ...................learning ...........
6248 Sunday ~~for this day !!! for falling back and getting a extra hour of sleep
6249 For Matt coming to church with me this morning = Answered prayers
for our church family
6250 For going to Stand in the Gap and pray for our county ~~a great turn out hundreds