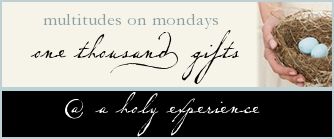 Giving Thanks to GOD this week for .... trying to count the
Endless Blessings from GOD ...............................
6251 Monday ~~For this day !!! blessed from the wake up and all Thur the day with Multitudes .......I give Thanks to my Saviour for all the many blessings
6252 Tuesday ~~For this day !!! Thank you Lord for the wake up this morning
6253 For the freedom of this day to go vote for whom ever I think is the right
person for the job. No Matter who wins JESUS is still my LORD and SAVIOUR
6254 For the day off to clean , be outside working a little in the yard and do the necessary things around our home
6255 Wednesday ~~For this day !!! as with each day there are many blessings
6256 For seeing the cardiologist and finding out that I am OK other than a few little things going on praying that GOD will take care of them
6257 Thursday ~~For this day !!! for the Saviour waking me this morning ,
coffee my husband brings to my bedside.
6258 Our Ladies bible study and how we can share what we are learning our tears, laughter and that we can pray for one another is such a blessings
6259 Friday ~~For this day !!!
6260 My early day off to come home , the warm weather allowed me to mow
and mulch out leaves 65 degrees love this sunny day thank you Lord.
6261 Lisa having our shutter fly party
6262 Saturday ~~For this day !!! I got to sleep in for a few minutes longer
6263 Studying in our bible study for this week, enjoying the quite time this morning
6264 Working outside in the warm 80 degrees in the sun
6265 Sitting on the porch in the sun getting some nature Vit D
6266 That no one was hurt in the shaking I felt at our house and the surrounding states due to the 4.3 earthquake in East KY around noon today
6267 Thankful that I can go for a walk in this warm weather Lord you sure
have blessed this gal today and do each day
6268 For Love that I feel from my husband
6269 Sunday ~~For this day !!! For the Veterans that have sacrificed for our freedoms
6270 Working on my bible study in my quite time thank you Lord for this time of quietness
6271 Doing my walk in this beautiful afternoon ,
6272 Tamsey getting the little thorns out of my hands from working in the roses
yesterday ...
6273 A place to worship and Praise God in the evening with other Christians
Thank you Lord for this week ....................................