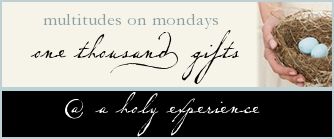 Giving Thanks to GOD this week for
5890 Monday ~~~For this day !!! as with each day GOD gave me a wake up call
I praise GOD for waking me this morning , a new day a new week to start
fresh to try and be a better witness more of CHRIST less of this ole gal
5891 Porch sitting with a fuzzy over me as it was cool and raining I still enjoyed
this morning to sit drink my coffee and watch the birds
5892 Safety to the Dentist office and back =being protected
5893 Thankful for the day off to enjoy
5894 Tuesday ~~For this day !! Blessed to be woke up again
5895 Another day off !!
5896 Thankful to be blessed to get a new washer as mine had torn up yesterday
the guy was kind when I went off on the junk I thought I had purchased five years ago from him . He gave us a good deal
5897 Thankful for warm fuzzy throws when I was chilling for the long nap
in bed getting up to feel better
5898 Thankful that my husband took me out this evening to eat at the 50's diner
5899 Wednesday ~~For this day !!! another blessing from above
5900 I say this over and over but I do enjoy our mornings on the porch
with coffee and watching and listening to nature what beauty GOD has allowed me to see . I want to soak up each one as winter brings cold weather much to cold for this gal to sit outside early mornings
5901 Thankful for the man that upgraded our washer to a more expensive one
due to our problems he delivered and sit it up at no additional cost I am blessed and thankful for this
5902 Thursday ~~For this day !!! another morning of freshness
5903 Thankful to get out early and feed my little hummers GOD is so awesome with the beauty of these little birds
5904 Thankful for getting my hair trimmed a day earlier than my app.
5905 Thankful that I enjoyed the beauty outside until dark-thirty .. :)
5906 Friday ~~For this day !!!
5907 Thankful this morning to porch sit , to feel the wind aw www
feels so great with my fuzzy throw around me enjoying being out here
with Chuck, our doggies, all of nature and black coffee to wake this gal
5908 For losing some weight the pass couple of months trying to eat healthier
thank you Lord for those 12 pounds
5909 Saturday ~~For this day !!!
5910 For being out on the porch early to enjoy my day off , also
after breakfast I go to the back to sit getting some GOD given natural
vitamin D
5911 For being able to clean our house , to mow and weed eat
as this is my time alone with GOD when I mow and weed eat
5912 Sunday ~~For this Day !!
5913 Another morning to sit and get some sun while reading in the bible
out on the deck God has blessed this ole gal
Also back out in the evening to Read more in the bible and sit enjoy the nice
low humid weather
Thank you Lord for you blessings on me of another week
May you soak of each day and count those blessings by giving Praise
to GOD
Glenna