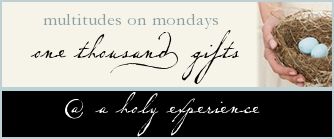 Giving Thanks to GOD this week for ..........
5766 Monday ~~For this day !!
5767 Thankful for my husbands birthday and how he said several times
this morning what a beautiful day !!
5768 Another Deck sitting evening
5769 Tuesday ~~For this day !!
5770 a day off to enjoy the deck and the sunshine along with listening to Joyce Myers podcast ...
5771 Lunch at the Mexican with my husband
5772 Thankful to pay bills and grocery shop
5773 Wednesday ~~For this day !!!
5774 Greeted with a early morning kiss
5775 Thankful for my little picnic as I call it out on the deck this evening
listening to Podcast.
5776 SB giving me some tips on hummingbird feeders to keep the birds off
5777 Thursday ~~for this day !!
5778 This day was filling with blessings from morning coffee , porch sitting , more tea from SB,
our ladies night at Janice's, to home with laughs shared with my husband
5779 Friday ~~For this day !!!
5780 The bees aren't hanging around the hummingbird feeders
5781 LC bringing me peach tea
5782 Deck sitting this evening with the bird books SB brought for me to read ...oh what a wonderful
comfy lounger
5783 Saturday ~~For this day !!!
5784 Up early to enjoy the morning before sunrise
5785 GOD blessings of each day are so numerous,I thank him and praise him for each one
5786 Sunday ~~for this day !!!
5787 Early AM porch sitting enjoy each minute to watch the birds, the little hummer was trying to tell me
something maybe thank you for the fresh food ...... the gentle rain that fell as I sit on the porch
5888 The love shared by two husband and wife ...
5889 T bringing me fresh tomatoes