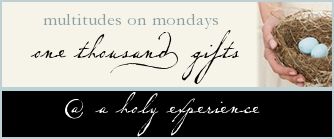 Giving Thanks to GOD this week for ..........
5608 Monday ~~For this day !!
5609 For seeing a yellow Finch while porch sitting early this morning
5610 That my husband and I got Lady dog bathed
5611 That Joan R is out of pain RIP Joan
5612 Tuesday ~~For this day !!
5613 For windmills I bought to try and run off the moles
5614 For a lady walking by our home stopping to give me a comment on my flowers and how beautiful she thought they where ....I hope others get joy from seeing the beauty of GOD's flowers that he allows me to take care of
5615 Another morning to porch sit while drinking my coffee with my husband
5616 Wednesday ~~For this day !!!
5617 Another beautiful morning
5618 Calling my brother to wish him a happy birthday
5619 For the cup SB brought me = thoughtfulness of others
5620 Thursday ~~For this day !!!
5621 I know I say this over and over ~~I am thankful to get to sit on our porch during the warm months to enjoy nature , our doggies loves laying on the porch as well , My husband, our doggies, our coffee
watching the sunrise our blessed we are ..
5622 That I got our work fridge defrosted
5623 Getting to leave work early today
5624 SO THANKFUL I finally got the man cave spring cleaned////////
5625 Thankful for a close laundry mat when my washer didn't spin out
5626 Friday ~~For this day !!!
5627 Another Morning to enjoy outdoors early
5628 For being busy this afternoon at work
5629 For date night with the hubby --simple subway to take to the park ..(the park is my favorite place to go enjoying a quick sandwich )
5630 For my devotional outback on the deck
5631 Saturday ~~For this day !!
5632 Thankful for this early morning porch sitting
5633 That I put all the hummingbird feeders in to soak so I can clean them tonight and yes I have happy hummingbirds .....
5634 Sunday ~~~For this day !!
5635 For people praying for Duece and the prayers answered for Duece
5636 For church this AM and PM