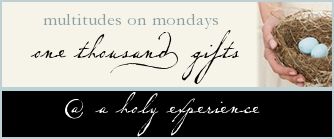 Giving Thanks to GOD this week for ..........
5582 Monday ~~For this day !!!
5583 Thankful for getting some things straightened up in the bathroom after painting it
5584 Thankful that I came home to a house with no dirty dishes =thanks to my husband
5585 For my nightly devotional
5586 Tuesday ~~For this day !!
5587 Bedside coffee brought to me by the one I love
5588 Safe trip to deliver a new phone to a customer
5589 Wednesday ~~For this day !!
5590 For a day off to do some general cleaning
5591 For my husband to take me to eat dinner
5592 Safe Travels
5593 To deck sit to watch the sunset
5594 Thursday ~~For this day !!!
5595 Friday ~~For this day !!!
5596 That I have a three day weekend starting today
5597 I enjoyed some time on our deck
5598 I stained our baseboards
5599 Saturday ~~For this day !!!
5600 Thankful that I got to see Doug, Gay and Myrtle
5601 Going to hear the Cookes
5602 Safety for Tamsey and I traveling
5603 Sunday ~~For this day ~~Fathers day
5604 That I was blessed with a wonderful dad he has been in heaven for many years , not a day goes
by that I don't think about him ...he was a great provided for his children as we never went with out So blessed and thankful to call him my daddy
5605 That I spent the morning on the deck listening to pod casts and nature
5606 My lady dog is the sweetest staying right by my side
5607 That I have had some new day lilies blooming this week