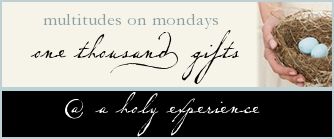 Giving Thanks to GOD this week for ..........
5396 Monday ~~For this day !!!
5397 For prayer time just me and GOD while I mowed the grass
5398 For the climbing rose I purchased today
5399 For flowers that bloom this time of year ~~all things in nature coming back to life
thank you LORD for the renewing and refreshing of this day
5400 Tuesday ~~For this day !!!
5401 Thankful to hear good news about the little wal mart greeter
5402 Thankful that I got off early to enjoy such a beautiful day to be outside
weed eating , and doing some crafty things
5403 Thankful that my husband fixes my weed eater string.....
5404 To hear kids in the are laughing, lawn movers running , birds singing
so many joyous noises
5405 For the laughs over lemon line Popsicles at work today = laughter is good for each
one
5406 Wednesday ~~For this day !!!
5407 For the wonderful husband GOD blessed me with he is morning person and I am
a lazy morning person Chuck brings me coffee to bed each morning and If I say refill he brings
me a refill .....sweet.....I know I say this alot , its something to be thankful for each morning
5408 That my husband came out and we had lunch together
5409 That we were able to help some others in need Thank you LORD for allowing
me to bless someone ......................
5410 For Hank coming and checking the grill for me
5411 For a walk over to my neighbors to chat for just a minute
5412 For having bird seed when my birdies fly by ...thank you LORD for birds that sing
so beautiful
5413 Thursday ~~For this day !!!
5414 For big ol belly laughs over me being silly =laughter is good
5415 For hugs and kisses each day
5416 Friday ~~For this day !!!
5417 GOD being the GOD of more than enough
5418 Thankful that I am learning to be more of a giver blessing others
5419 Rain, thunder and wind =Glad that I know the maker of them
5420 My devotional about giving
5421 Prayer time ~~~Talking with the Master
5422 Saturday ~~For this day !!!
5423 For my talks with Greta
5424 Knowing that even though I am a failure at what I gave up for lent these past two day
GOD still loves me and forgives me
5425 Coming home to hugs and kisses from the husband that GOD gave to me
5426 Sunday ~~For this day !!!
5427 For our Palm Sunday service