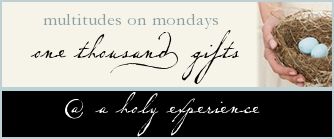 Giving Thanks to GOD this week for ..........
5346 Monday ~~For this day !!!
5347 Thankful that I have a job to go to this morning
5348 Thankful that GOD knows my heart
5349 Tuesday ~~For this day !!!
5350 Thankful for the safe Trip and back for work today
5351 Thankful that my role play was OK ...Thank you LORD for
letting me not be so nervous about this
5352 Thankful that it wasn't raining like the weather had said
5353 Wednesday ~~For this day !!! and the many blessings it has contained
5354 Thursday ~~For this day !!
5355 The flowers blooming as I walk toward my car each morning this week thank you LORD !!
5356 For a Busy day at work !!
5357 For Grass to mow and weedeat itts my time with you LORD
5358 For a lawmower that I can sing PRAISE to GOD and no one hears me except him
5359 Thankful that Chuck rethreads my weed eater
5360 Friday ~~For this day !!!
5361 That I got to leave work early
5362 Going to the nursey to get some flowers to plant
5363 For my husband driving me there and us going out for dinner
5364 For My husband saying I know you will want to stop at DQ for a blizzard ...
5365 For safety traveling to the nursey and back
5366 Saturday ~~For this day !!!
5367 My weekend off
5368 Thankful that we got up early to have breakfast at my husbands favorite place
5369 For more flowers I got at Lowe's today
5370 For Aldi and good prices
5371 For roadside sellers selling fresh Strawberries
5372 Thankful to have found me a new purse today
5373 Sunday ~~For this day !!!
5374 Wonderful day of rest
5375 Listening to Joyce Myers on podcast this Am ..Up lifthing
5376 Thankful for a tender Steak
5377 For my Saviours love