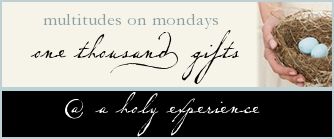 Giving Thanks to GOD this week for ..........
5199 Monday ~~For this day !!
5200 For the mixture of clouds and sunshine on this day
5201 For our new employee
5203 For laughs of Lollipops that Brookster tried to eat !!
5204 For the sweet face of my dog tonight and his unconditional love for me
5205 Tuesday ~~For this day !!
5206 Thankful that I was off to take my sister to the dr , also for our safety in travels today
5207 Thankful for the dinner my sister fixed for us
5208 Wednesday ~~For this day !!!
5209 I am thankful for the cold, cloudy as I must thank GOD for the cold and clouds as well as the sun and warmth ...thank you LORD
5210 For my husband bringing laughs to work today
5211 For my husband agreeing to have his picture made for our church directory
5212 Thursday ~~For this day !!!
5213 For our ladies bible study class the wonderful duscission
5214 For my husbands love for me ....................................
5215 Friday ~~For this day !!!
5216 Thankful that I was able to cancel the insurance that I was quoted ...Thankful that GOD has a plan that is perfect for me
5217 Thankful that we got some snow tonight and that I am off work tomorrow
5218 Thankful that my sister in law got her retirement
5219 Thankful that Beth's husband is doing ok ...praying for a speedy recovery
5220 Saturday ~~For this day !!!
5221 For the beautiful snow that was clinging to the tress this morning
5222 That I have the day off to cook, clean, and do laundry which means I am blessed and thankful for our food, our clothes, and a house to clean = thankful and blessed
5223 That I found the right size boxes that I need to ship some items
5224 Thankful for warmth on this cold day
5225 Thankful that I know Buggs is in heaven and has been for a year today and that I got to read the bible to him just before he left for heaven such a wonderful CHRISTian brother he was and my hearts breaks today as it has which each day
5226 Sunday ~~For this day !!!
5227 For a lazy day and two naps .....
5228 For warm fuzzy throws that feel so good
5229 For my dog that warms the foot of the bed ...