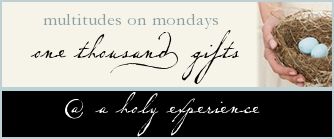 Giving Thanks to GOD this week for ..........
5173 Monday ~~For this day !!!
5174 For the beauty of this day the beautiful sunshine that I so love thank you LORD
5175 Tuesday ~~For this day !!!
5176 Thankful for our little champion who came into our life nine years ago today
he is our spoiled little baby dog ....thank you GOD for champie
5177 Thankful for sweet little girls b and g who bought champie some gifts
5178 Thankful for getting off early and to clean house and cook a meal for us
5179 Thankful that I KNOW GOD will not let lc and me down that he will show us the way
to go and he blessed us with quota and we will get it ....thank you LORD
5180 Wednesday ~~For this day !!!
5181 For the rain GOD knows what we need I must be thankful in the sunshine and the rain
5182 For the answer that we did reach quota .......Thank you LORD !!!!
5183 For Carolyn having some samples to let CW use .....
5184 For the words of the light is on and the door is open on the phone when I opened the door I was greeted with a hug and kiss from CW
5185 For CW wanting to know about my day ....and how it was
5186 Thursday ~~For this day !!!
5187 The beautiful day GOD has given us sunny, not as cold as last year !!
5187 For our ladies bible study and for all the Ladies that attend
5188 Friday ~~For this day !!
5189 For my devotional and studying in my bible study
5190 Praying for a lady in our bible study for a need she has in our study this week = thankful for prayer
5191 For my shipment of sheets that came in
5192 Saturday~~For this day!!
5193 Lisa and I laughing over our time or my time ....
5194 That I got to leave work at 11 to come home to do laundry and cook supper which is a rare that I get home in time to cook =thankful my husband is satisfied with soup and sandwich on many many day
5195 For Grapes and Orange sherbet
5196 Sunday ~~For this day !!!
5197 For our worship hour and for communion
5198 For my husband starting supper while I was at work