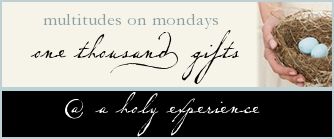 Giving Thanks to GOD this week for ..........
5230 Monday ~~For this day !!!
5231 For studying in my devotional and bible study
5232 For the many laughs we shared as we dipped strawberries its the little things that have
big blessings ....thankful that we could share with others ..
5233 That my husband couldn't wait to give me my valentines day card, candy and a rose
his words were to me I didn't get you a real rose I wanted you to have one that will never die
his sweet card ......
5233 Tuesday ~~For this day !!!
5234 Thankful that we didn't get the snow and Ice
5235 Thankful for getting off early getting our dinner to bring home
5236 Thankful for Hot baths and razors
5237 Thankful that my husband liked is little things I got him
5238 Thankful for the verse that says love is patient , love is kind and for my saviours love for me each day
5239 Wednesday ~~For this day !!!
5240 For LC bringing lunch today
5241 That my sister in law called ....as I know this was a hard day for her and a hard week
5242 That GOD will provide the right health Ins for me ................
5243 Thankful that I am cooking us lunch now for tomorrow that I am blessed to have
food to share ....................
5244 Thankful for the HOLY SPIRIT ..........................recalling feeling like I was being brushed by angel wings one Sunday night at church
5245 Thursday ~~For this day !!!
5246 Thankful for our bible study and that my sister came tonight
5247 Friday ~~For this day !!!
5248 For the laughs over LC telling me to tell my sister to run water
5249 For A visit from a friend
5250 For Love ..................love of my heavenly father
5251 Thankful that Kenneth got the job answered prayers
5252 Thankful that Mikie is going good and they got all his cancer thank you LORD
5253 Saturday ~~For this day !!
5254 For The Holy Spirit study week .....
5255 That I know the Holy Spirit lives in me
5256 Sunday ~~For this day !!
5257 For fixing the meals needed today before I had to go to work
5258 For safe travels to work in the snow
5259 For my employer letting me come home due to the bad weather ...
5260 For a day to just be lazy now that I am home