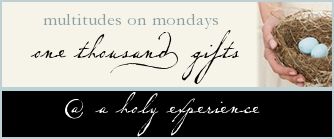 Trying to count the multitude of blessings is like standing on the shore trying to count each grain of sand
Endless........................................
Giving thanks To GOD this week for
6907 For each day this week that GOD allowed me to enjoy what a blessing
I porch sit each morning and again each evening doing my devotionals out on the
porch each evening with my little lady dog ,
Friday bought us sadness with our sweet dog leaving to doggy heaven I stop to thank GOD for allowing her to come into our lives 11 years ago
safety and protection each day , for LC buying us lunch for several days
Thank you Lord for you blessings on me and my husband this week !!