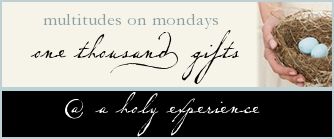 Trying to count the multitude of blessings is like standing on the shore trying to count each grain of sand
Endless........................................
Giving thanks To GOD this week for ...............................
.
6892 Monday ~~For this day !! listening to the praises of the birds and nature this morning as the birds sing my mind wonders are they singing Praises to God , the bible says let everything that have breath Praise the Lord !!! For the scripture Luke 12 6 and 7!!! GOD always being right on time, a answer to my prayer a day earlier than I had ask ..how sweet ....how precious...then I get in my car and hear this song below
the song started at" Didn't I run to your rescue didn't I hear you when you called " wow how awesome is our GOD !!!
As I kneel in the darkness in the middle of the night
I'm praying for assurance everything's gonna be alright
Lord I see another battle out in front of me
I'm afraid I won't be able and I'll go down in defeat
And He said, I walked on the water and I calmed the raging sea
I spoke to the wind, it hushed and I gave you peace
Didn't I run to your rescue didn't I hear you when you called
I walked right beside you just so you wouldn't fall
Didn't I leave all of Heaven just to die for your sin
I searched until I found you and I'd do it all again
He said, do you remember where I brought you from
Just take a look behind you at how far you've come
And everytime you asked me, didn't I deliver you
So why would you be thinking that I wouldn't see you through
Now she's talking to her father in a house that was once a home
She said my bills are coming due Lord and six days is not that long
She hears a voice so still and low
It says I've moved like that before
And I'll do this little thing and I'll give you so much more
Thankful for walking the track , New Balance doing to replace the shoes I have thankful for this
Lord how you send blessings my way when I am so unlovable I give all PRAISE to you LORD !!!
6893 Tuesday ~~For this day !!! another morning GOD has blessed me with I know I say this over and over I love the mornings outside on our porch ~~savoring the mornings so when winter comes I can
come back and look at these post of the JOY of Porch sititng at sunrise , daytime or night sitting .
Listening to the Song listed on Monday what a blessings I just PRAISE GOD for his love for me
6894 Wednesday ~~For this day !!! the day off to go with my husband to the Dr. thankful for safe travels
thankful for each blessing of this day !!
6895 Thursday ~~For this day !! getting up early getting some house work done. for love
6896 Friday~~For this day !!! another day of coming in late to work !! getting to ride my bike, and then ride the stationery bike , lay in the sun while reading in Genesis
6897 Saturday ~~For this day !! For trimming my roses and cutting saw briars before work , for mowing this evening and weed eating praying for our little lady dog , thank you Lord that she isdoing much better
6898 Sunday ~~For this day !!For the early morning porch sitting, for reading my bible while laying in the sun on the deck thank you Lord for you love, forgiveness and Grace
Week 168
6899 Monday ~~For this day !! for the cool day with low humidity , a wonderful evening to walk the track
6900 Tuesday ~~For this day !!! for this my husbands birthday thankful for GOD allowing us to find each other, ,helping someone clean their house thankful that I was taught to help others,
For DB's grilled chicken so yummy !!
6901 Wednesday ~~For this day !!! For my husband bringing me Subway for lunch, for love of my husband , family and old KY friends, getting New Balance shoes ,
6902 Thursday ~~For this day !!for Margaret, Sis and Chelise, visiting me at work today,
for a customer from yesterday coming back today with a card and thanking me when I was just doing my job For the laughter with my bible study sisters, for Janice opening up her home for us to have our pot luck dinner I think each one of us truly enjoyed being with each other even Janice's doggy :}
6903 Friday ~~for this day !!! Getting up early to porch sit with my husband , how I love and thankful for seeing, hearing nature at its best of the early morning as it seems all things are new and fresh at sunrise, cleaning house before work today thankful for having to not go in until 1
6904 Saturday~~For this day !!! for sitting longer this morning on our porch, enjoying nature, feeding the birds, for the young man that worked with me today he talked of church and how he was in the tornado a few years back, Safety to the Somerville and back tonight , for love,, for safety and protections
6905 Sunday ~~For this day !!! blessing with another day to go out early and porch sit , sitting longer, fixed my husband breakfast= we have food, for laying in the sun before work and reading
the bible while I am laying in the sun my quite time thank you Lord
Thank you Lord for your blessing on me , I am blessed to have family, a home, a job and someone to tell me they love me and me to tell them I love them , For your word, praying that I can understand if better each time I read ..............................