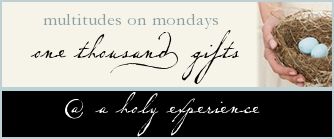 Trying to count the multitude of blessings is like standing on the shore trying to count each grain of sand
Endless........................................
Giving thanks To GOD this week for ................................
6422 Monday ~~For this day !!! for my husband waking up to say "its a wonderful life" , for this day off, to relax in the sun , to pray and sing as I mow and weed eat, for a quick lunch, for my husband and I going to the park with our subway and RC10 such a beautiful day ,,
Thank you Lord for this picture perfect day !!!
Thank you Lord for you beauty that surrounds me daily !!
6423 Tuesday ~~ For this day !! a day filled with sunshine windows to see out and enjoy the sun,
for eating my first Avocado , trying to eat healthy, for the track that is close to stop and walk , thank you Lord for my walk and the time I spent with you in praying and Thanksgiving during this walk, burning some calories during my walk as my map my walk helps me !, thankful for those apps like map my walk and lose it . my champie dogie loving it outside this evening he ran as best he could with his 3 paws , smelled, looked and listened he amazes me trying to find the wind.....its so sweet ....maybe just maybe he sees the wind maker, thankful for ending my evening out on the deck with my devotionals and prayer time with the one who made it all !!!
6424 Wednesday ~~For this day !!! for my new Coach "George" he is helping me showing me exercises to strenghten my legs and upper body, for breakfast out on the deck , the birds singing, the trees singing with their leaf's in the wind , for my husband taking me to the walking
this picture says SON-shine !!!
I just want to PRAISE THE LORD for a good cardiologist report
today ...I just cant Thank you Lord enough for all you do for me ...
6425 Thursday ~~For this day !! for the first morning to porch sit and to see the sunrise just look at those colors blue, pinks yellow white what awesome GOD we have Thanks you lord for your colorful world !!!
Thankful for all the Ladies at our bible study for the soaking prayer and anointing of oil
6426 Friday ~~For this day !! the second early morning to porch sit with my hubby , champ and lady dog, for nature and the sounds you can hear when its quite, for walking on the track a few days this week
6427 Saturday ~~For this day !!! the beauty of the morning , the sun, the sky , all things turning green and blooming, thank you Lord for your beautiful world !!
6428 Sunday ~~For this day !!! the day off to relax and rest, as with each day this is the day the Lord has made let us rejoice and be glad in it !!! The Love that I feel from CW (on most days:} )
Thank you Lord for each day and each blessing that you allowed me this weeek the ones listed and those that were to numerous to list I give you PRAISE for it all