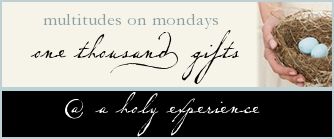 Trying to count the multitude of blessings is like standing on the shore trying to count each grain of sand
Endless........................................
Giving thanks To GOD this week for ................................
6408 Monday ~~For this day !! a job , for flowers to plant , being outside in the evening for a little while
just me and the Lord !!!
6409 Tuesday ~~For this day !! Coffee, water, for lunch, mowing and weeding which is my time to pray and give thanks to the Lord !! shower and soap to get clean, for praying friends
6410 Wednesday ~~For this day !! for love, praying that the halter monitor shows my heart is not skipping beats as I wear it today !! Lisa bringing lunch , business visits with good finds :>)
6411 Thursday ~For this day !!! as it is a Gift from the Lord above , my husband took me to the park to walk while I had the heart monitor on just so he could be there and make sure I did ok.. Love .............
for our ladies bible study
6412 Friday ~~For this day !! for each second of this day
6413 Saturday ~~For this day !!
6414 Sunday ~~For this day !!!
Week 156
6415 Monday ~~For this day !!! Safety for my husband and I do our Doctors apt. breakfast/lunch after our apt. at Shoney's . My husband picking me up from work and taking me to subway then to my favorite place to eat ....the park.....
6416 Tuesday ~~For this day !! For all the times Lc brings us lunch since I am just plain lazy about cooking. a caring co-worker,
6417 Wednesday ~~For this day !! Rain, I must be thankful for these past few rainy days as its what GOD knows we need, ~~For this day !!! for my husband keeping me on the right track when I am mean and unlovable ..for my husband taking me to the park again to walk the track ....thankful that GOD listens to me as I pray and talk to him about this day and how unlovable I had been yet, he still loves me ...amazing love from GOD.... amazing love from my husband , for the large white feather that I found
6418 Thursday ~~For this day !!! For the day off...That I got up early and got with the cleaning, laundry and cooking to get out and enjoy the sunshine ....laying in the sun is so wonderful thankful for the sun and the SON shine maker ......for my lady dog laying by my sides, thankful for the smell and look of clean. ....
for our ladies bible study
6419 Friday ~~For this day !!! Knowing GOD has a plan and the place he wants me to be with the benefits I have ask for and need. for walking using my map my walk to show how many miles I walk and calories I burn ....My time with GOD as I walk and for the sweet little boy that rode is bike talking to me
listening to children's laughter and seeing them play as I walk a Joy to me
6420 Saturday ~~For this day !!! Waking to the sound of birds singing what joy fills my soul to listen to them I say this over and over we could learn alot from the birds as they sing in the rain, the snow, the cold , the sun, no matter the weather they still sing ..as for us as Christians IF only we could be like them
6421 Sunday ~~For this day !! waking up early to go with my husband to his mothers before work today , taking breakfast to her . for our safety traveling there, for her being surprised to see us , For memories of my sweet precious Mother that was a wonderful Christan example she was to all if I could be as Christ like and devoted to reading GOD's word , in my mind I see her kneeing beside her bed each night and praying , singing as she worked songs in Praise to our Saviour
http://www.youtube.com/watch?v=PlojcTfz73g
one of the songs I used to hear her sing as she cleaned
Thannk you Lord for memories as I cherish each one , I thank you for this week, each breath , each step , for each ray of sunshine that has been in given to me
Lord you have blessed me ...............................
I PRAISE YOUR NAME for blessings beyond measure ....................