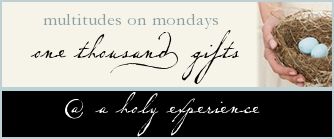 Trying to count the multitude of blessings is like standing on the shore trying to count each grain of sand
Endless........................................
Giving thanks To GOD this week for ................
6373 Monday ~~For this day !!! for snow as it makes me appreciate and be thankful for the sunshine and warm days !, that GOD hears our prayers and knows our hearts,
6374 Tuesday ~~For this day !!! for the simple life, simple things, my day early day off , grocery shopping=I am blessed to have the money to buy them thank you Lord, praying the electric bill today my little champion doggy crawling up in my lap wanting to be loved and petted reminded me of our we as GOD children can crawl up in his lap and GOD love on us .......................
6375 Wednesday ~~For this day !!! the love my husband showers me with each day,
6376 Thursday ~~For this day !!! for sunshine cleaning up at our office ,for knowing GOD you forgive when I get so upset about ....things in general....
6377 Friday ~~For this day !!! Good Friday !!! a three day weekend , a day to enjoy and just relax
nightly devotional
6378 Saturday ~~For this day !!! Cleaning house, having company (Danny and Colleen)and enjoying their visit ,for laughs shared , for company buying us dinner, Coloring Eggs, Lord how I love this as It brings to my mind the new freshness of this time of year , the colors so pretty Lord you made it all
6379 Sunday ~~For this day !!!! For Easter ~~He is alive and that the grave couldn't hope my JESUS
that I made it though the season of lent with my sacrifice (potatoes) , worship service this morning
Thank you Lord for the new freshness Easter brings to us ...Thankful that you love me when I sure am unlovable. ...................that my sins are forgiven ...