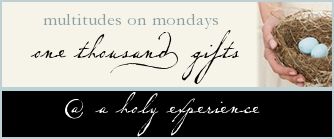 Trying to count the multitude of blessings is like standing on the shore trying to count each grain of sand
Endless........................................
Giving thanks To GOD this week for ..................
6510 Monday ~~For this day !!! for the loving family GOD as allowed me to have and the memories
I cherish each one !!
6511 For my brother Buggs and this day he entered heaven two years ago for the sweet memories I have of him as I visited him just before we entered those heavenly gates, he was raising his hands as if he was
reaching for someone as I read Psalms 91 to him ...he saw the heavenly sites and told me of them before he left now he has saw the face of GOD, sit by the river of life , Talked with James and John , Maybe he and King David has danced Mightily before GOD together !!! dance on.....sing on......my two in one brother !!!
6512 Tuesday ~~For this day !!! for the wonderful nights rest , the day off, coffee to enjoy
as I watched the today show, for TV and news to keep me informed my walk that I took this afternoon
cool but still enjoyed my time in nature , How AWESOME is our GOD to design such a beautiful world if we will just stop look around and enjoy the beauty, for my nightly devotional
6513 Wednesday ~~For this day !!! Ash Wednesday a time of giving up something for Lent. for shelter form the cold, and rain, for the sweet kisses
each morning that I receive from my husband , for our little champion that runs to the door as I leave for
work ~~he tells me by and wants to be included in hugs so we do a group hug, if we could only love
the way a dog loves a family that cares for them .................
6514 Thursday ~~For this day !!! the beautiful sunshine ,the day we call Valentines day , getting off work early for my husband and I having our lunch/dinner combo Valentines day meal , safety in our travels, for a love that I have each day on days that I don't stop and say thank you for my best friend when I should, for being loved by GOD even when I am bad he loves me, for finding the fiberglass tub repair kit for raking leaves and picking up sticks,, for my nightly devotionals,
for my nightly prayer time ....................................GOD you are so good your blessings are bountiful daily !!
6515 Friday ~~~~For this day !!! for another day that I am blessed to see, for rain that makes me more appreciative of the sunshine !!! For cold weather that makes me appreciative of the warm days ..
6516 Saturday ~~For this day !!! a day off work, that I am able to try and repair our shower
stall , that my husband and I had a good day , nightly Devotional, for candles that makes the house smell so good and cozy with the candle lite, for a house to clean, and clothes to wash .....
6517 Sunday ~~For this day !!! For love, for sunshine on the outisde and the Son-shine that is in my soul ....., for Lisa driving us to ktown for our meeting, safety to ktown and back , for the little yellow daffodils I saw as we were leaving our meeting makes my heart sing for joy !!!for the door opening at home as I walk up the walk to see a little doggie and my husband waiting for me to come in ... a welcome home ......nightly Devontionals, for the sunset I saw tonight I stand in awe at the beauty if everyone would just stop look, listen and enjoy the beauty GOD allows us each day ..............
Thank you Lord for this week of blessings ....................................