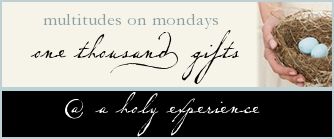 Trying to count the multitude of blessings is like standing on the shore trying to count each grain of sand
Endless........................................
Giving thanks To GOD this week for ..................
6500 Monday ~~For this day !!! that I have had shelter from the snow, a warm bed, hot coffee,
that my car started and warmed up , that the snow is almost gone by days end
6501 Tuesday ~~For this day !!! A safe trip to my
endrocronglisit
appointment,
for a Doctor
to sing you are my sunshine as he walks me to lab , this speaks multitudes for his personality
6502 Being home early to fix dinner for us , my nightly devotional
6503 Wednesday ~~~For this day !!the many blessings that is has held ....
6504 Thursday ~~For this day !!! the day off to enjoy , safety as we traveled about
45 minutes to do some grocery shopping, for Wendy's and their yummy food that we
shared
6505 Friday ~~For this day !!! the nights rest , a job , a home, someone to meet me at
the door as I enter
6506 Saturday~~For this day !!! for the hugs, the kisses each morning from my husband
after work coming home to do some more work , cleaning the bathrooms, doing laundry
my nightly devotional
6507 Sunday ~~For this day !!! for the sweetest kiss ever this morning !!! bed side coffee
not only this morning but each morning my husband brings it how blessed even if I don't want to
get up as early as he does :>)
6508 Church to worship and Praise the one that allows me all the blessings I enjoy each second of the day
6509 For the birds that visited my bird feeders as I watched them enjoy their food , .maybe they were singing praises to GOD
For this weeks of multitudes I am blessed .......God has supplied my needs ......................