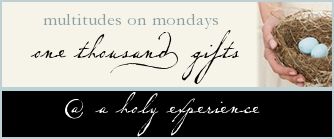 Giving Thanks to GOD this week for
5955 Monday ~~This day !!! getting to sleep in a little longer, enjoying the sun
from my deck early getting my Vit. D
5956 Hamburger's on the grill
5957 Hank coming by to check on our computer
5958 Tuesday ~~For this day !!! getting outside early to sit on the porch with my coffee so thankful for each day to enjoy nature
5959 Thankful that GOD forgives me when I say and do things I should not
when I want to take things into my hands and not leave it to him ...he still loves me
5960 For the things I fail to say thank you to GOD each time I pay a Electric bill, or go to the grocery store even each time I start a load of laundry ...I am blessed
Thank you LORD for your blessings on me.
5961 For laughs with my husband .....Power surges...
5962 Wednesday ~~For this day !!! Being blessed to get up another day and go out to porch sit at 6 am with my husband, Champ and Lady .
To enjoy this time together and the first cup of coffee together as we watch our little feathered friends....(I think as I watch them how much GOD cares about the birds and oh how he loves us ) This song comes to my mind...Consider the Lillie's they don't toil nor spend but there is not a king with more splendor than them ..Consider the Sparrow he don't plant nor sow but he is feed by the Master who watches him grow .....................We have a heavenly father above with eyes full of mercy and a heart full of love ....
5963 Thankful for slow cookers and living close to go home at lunch to check on them for my husband helping with dish's each day
5964 For my nightly devotional and prayer time .....
5965 Thursday ~~For this day !!! Another wake up from my Heavenly Father
5966 For a Husband who this morning brought me coffee to bed and when
asked for a refill he does this again with much love
5967 For the husband that is waiting and opening the door when I get home from
work this night and each night
5968 Friday ~~For this day !!! Blessed to be able to porch sit with my my husband and that first cup of coffee. For the enjoyment of living the simple life receiving much happiness from GOD's beauty and his many many ....blessings each and every day .
5969 For the most beautiful sunrise this morning , the pinks, the golds, the white and blue sky ...a Master artist that with just the touch of his finger swirled the colors
5970 Saturday ~~For this day !! this is the day the Lord hath made let us rejoice and be glad in it !!!
5971 Thankful to get to talk to Matt about how no one is perfect and their is brokenness and cracks in everyone's life.
5972 My sister came by we cooked , then went to do some grocery shopping
5973 Sunday ~~For this day !!! another beautiful morning to porch sit
to watch the birds and listen to nature , the wind felt so nice this morning
so so much to thank GOD for ...
5974 A husband that says wait as I am about to go out the door to work this afternoon , for that hug and kiss ..............
5975 For our church service tonight ~~the Holy Spirit~~~the song I never shall forget the day !!
May you feel the warm gentle breeze of blessings coming your way each day
Glenna