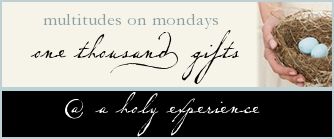 Trying to count the multitude of blessings is like standing on the shore trying to count each grain of sand
Endless........................................
Giving thanks To GOD this week for ................................
6550 Monday ~~For this day !! Waking at 5 am , Porch sitting with my husband, for the rain that was falling as we sit and watched GOD's little creature eat at the bird feeder , for the red Cardinal that comes by so often, for the hug and kiss as I leave for work this morning
6551 Tuesday ~~For this day !! to sit and enjoy my morning coffee on this my day off,
cleaning our house and finally getting to spring clean our computer room, for time to lay in the sun and thank GOD for the sun and his SON , loving to mow and weed eat thankful for this love of nature, moving a rose from the shade to a better place , for blooming flowers, nightly devotionals
Reading in John
6552 Wednesday ~~For this day !!! Waking up next to the one I love, Another beautiful morning that GOD has allowed me to see and to sit on the porch , enjoying my fathers world, laying in the sun at 830 this morning, the smell of a clean house, my husband help to make our bed , for Lisa allowing me to use her hot spot , for LOVE between husband and wife ...
6553 Thursday ~~For this day !!! blessed to walk and ride my bike this day !! back to work
being busier than normal thank you Lord,
6554 Friday ~~For this day !!! the cool morning air as I ride my bike watching the sunrise ,
that I can pray as I walk and talk to the Lord , reaching a goal tonight at the park on walking miles, thank you LORD for you blessings on me ......................
6555 Saturday ~~For this day !!!thank you Lord for warm mornings to watch your outdoor world,
walking and praying again tonight at the park , Doing my bible reading and devotionals outside tonight
thank you Lord for so much ................
6556 Sunday ~~For this day !!! Fathers day , I am blessed to have had a wonderful dad that loved me ,cared for me, protected me, would discipline me when needed, values he taught me .his love for outdoors that I share that same love, a honest hard working man that was a giver teaching me to give
so Lord for today if possible wish him Happy Fathers day from his big baby girl !!!
for watching the red headed woodpecker this morning as I drank my coffee and those little birds that are so sweet , for laying in the sun before work reading the bible , ..For my walk at the park finished just in time
thank you Lord for holding off the rain until I got my walk in , A call from Lloyd and Penny , Glad he had a great fathers day with Mike !! Chuck and I porch sitting during the rain , thunder and lighting , holding my champion dog and singing consider the lillies to him as he was so afaird ......singing Jesus loves me a kids song but oh so true thank you Jesus that you Love me !!!
Thank you Lord for this week and all the blessings from sun up to sun down .............................loving me when I am unloveable how blessed I am !!!